GeM was founded in 2004 from the merger of 3 de la fusion de 3 existing laboratories : LGCNSN (Laboratoire de Génie Civil de Nantes Saint-Nazaire), LMM (Laboratoire de Mécanique et Matériaux) and LAMM (Laboratoire d'Applications des Matériaux à la Mécanique).
Under the supervision of CNRS, École Centrale de Nantes, Nantes Université, the laboratory gathers now, on Nantes and Saint-Nazaire sites, more than 240 people:
80 researchers and academics
More than 100 PhD students and post-doctoral researchers
More than 40 technical and administrative staff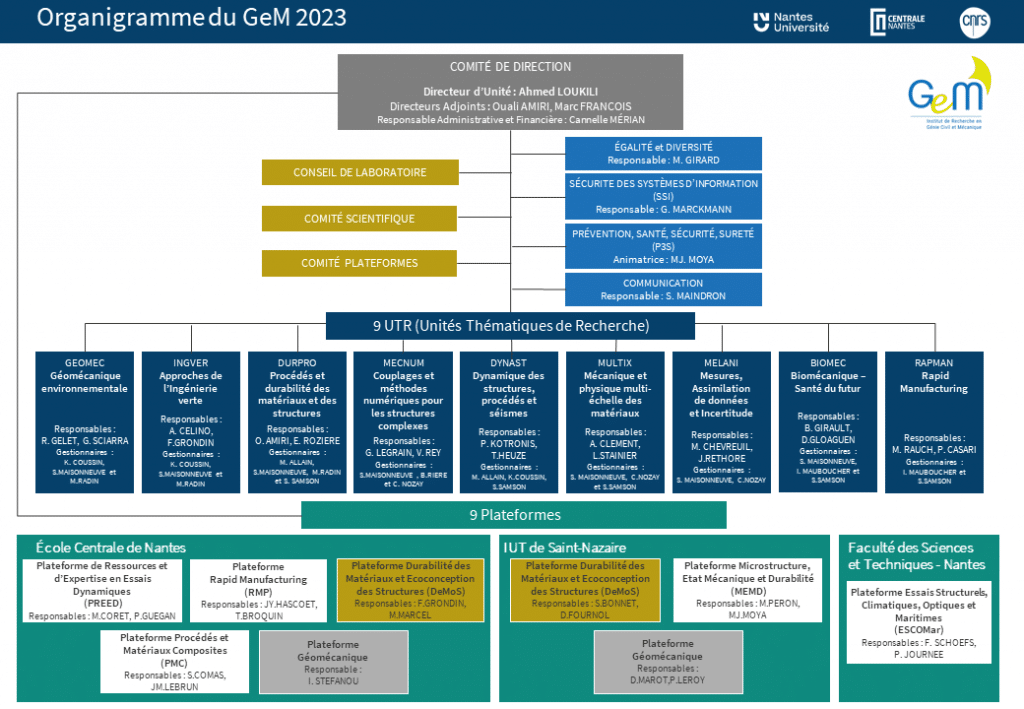 Laboratory council

2022-2026
17 members
Ex officio members :
Ahmed Loukili, Director
Ouali Amiri, Deputy director
Marc François, Deputy drector
Elected members :
Researchers and academic researchers
Stéphanie Bonnet, Patrice Cartraud, Marion Girard

, Baptiste Girault, Valentine Rey


Engineers, technical and administrative staff
Jean-Michel Lebrun, Xiaodong Liu, Marie-José Moya
PhD students and post-doctoral researchers
Tarek Mesto, Jinane Murr
Nominated members :
David Gloaguen, Guillaume Racineux, Julien Réthoré, Franck Schoefs
Laboratory council role

The laboratory council is set up at the request of the CNRS (Comité National de Recherche Scientifique). It has a consultative role on all the following issues:
– status, program, coordination of research, composition of teams
– budgetary resources to be requested by the laboratory and distribution of those allocated to it
– policy of research contracts concerning the ulaboratory
– policy of technology transfer and dissemination of scientific information of the laboratory
– management of human resources
– policy of training through research
– consequences of the opinion formulated by the section(s) of the CNRS to which the laboratory belongs
– all measures relating to the organization and functioning of the laboratory and likely to have an impact on the situation and working conditions of the staff
The laboratory director may also consult or inform the council on any other matter concerning the laboratory.
In practice, the council also deals with the organization of laboratory events, the criteria for awarding grants for doctoral contracts, the functioning of the laboratory : budget, experimental and computing resources, etc.
Mise à jour le 3/10/2023