Conference – Dr Michalis Fragiadakis 'Reliability and health assessment of structures: past work and future perspectives'
1 December 2022
à
14 h 00
–
16 h 00
As part of external GeM seminars, the Thematic Reserch Units GEOMEC and DYNAST welcome Dr. Michalis Fragiadakis who will give a conference on Thursday 1st December 2022 at 2pm at Centrale Nantes (Theater E)
Reliability and health assessment of structures: past work and future perspectives
SUMMARY
Structural risk and health assessment tools are essential for determining the condition of a structure and prioritize interventions. The problem is today critical, since modern infrastructure is getting old while various hazards, natural, or man-made, are a threat to the
built environment. Structures of cultural heritage are also critical for the society and need to be protected. The presentation will focus on performance-based, decision-making tools that can smarty combine data from measurements and simulations. Such tools are today at the forefront of structural engineering. The assessment of different systems will be discussed, giving emphasis to building, bridges, monuments, and offshore wind turbines, thus providing a unified multiple hazard assessment framework. Such tools are today at the forefront of structural engineering since they are essential for increasing the resilience of a structure/system through proactive measures that reduce either the risk, or the consequences, of structural failure.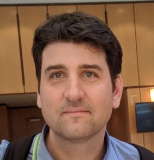 Dr Michalis Fragiadakis (mfrag@mail.ntua.gr) is Associate Professor at the School of Civil Engineering of the National Technical University of Athens (NTUA), Greece and Visiting Professor at EMGCU/IFSTTAR laboratory of Gustave Eiffel University. He received his PhD from NTUA and holds MSc degrees from NTUA and Imperial College, London. He has worked as adjunct lecturer at the University of Thessaly and as a Postdoctoral researcher at the University of Pavia and the University of Cyprus. His research activity is focused on structural engineering and on the seismic risk assessment of structures and lifelines. His interests also extend to computational methods in structural analysis and on the application of novel soft-computing methodologies for structural analysis and design. Dr Fragiadakis is Treasurer of the Hellenic Society for Earthquake Engineering (HSTAM) and the Delegate of Greece to the International Association for Earthquake Engineering (IAEE). He has been involved in many National and European research projects with emphasis on seismic risk assessment. Moreover, Dr Fragiadakis has been co-chairman of 7 international conferences (COMPDYN series) and has co-organised several mini-symposia and special sessions in international conferences. He has authored and co-authored more than 180 publications and his work is extensively disseminated.